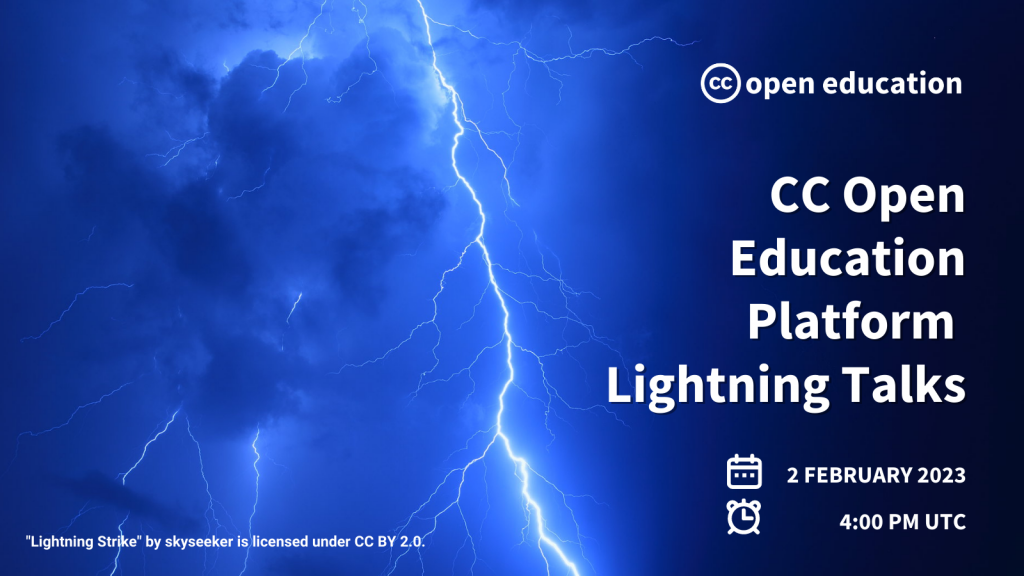 The Creative Commons Open Education Platform community welcomes you to our Lightning Talks, or seven-minute presentations on specific updates or stories in open education.
Kicking off our Lightning Talks series for 2023, presenters will highlight: open educational resources (OER) as tools for social justice, work/life balance, climate change and the United Nations Sustainable Development Goals (SDGs). Presenters will also focus on particular platforms, such as LibreTexts and Curationist, which provide technical advancements for open education. Learn more about the presentations below. 
Join us via Zoom at 4:00 PM UTC on 2 February 2023, ready to learn. Determine the meeting time in your local time zone. 
Reimagining Open Education as Social Justice
Speakers: 

Ravon Ruffin, Educational Programs Manager at MHz Foundation. Ruffin is also CEO and co-founder of the creative studio and arts incubator Brown Art Ink. 

Amanda Figueroa, Community Director at MHz Foundation. Figueroa is also the co-founder of Brown Art Ink.

Summary: This session will be an overview and exploration of the Curationist platform, a digital open access tool for publishing materials found in the Creative Commons and public domain. This tool brings together arts and culture communities to find, share, collaborate, and reimagine cultural narratives. Curationist is a response to the urgent call for decolonial methodologies within curation, education, and art, and will exist as a vital resource within openGLAM, OER, and Indigenous data sovereignty.
LibreTexts 101: Building the Textbook of the Future
Speaker: Delmar Larsen, Professor of Chemistry at the University of California, Davis, and Founder and Director of the LibreTexts project.
Summary: Larsen will provide a topical overview of the LibreVerse – the suite of tools and technologies to advance the building and usage of OER textbooks, assessments, and other activities. The overview will include a discussion of the Libraries, ADAPT homework system, jupyter, Commons&Conductor, SOLO, bots and more. The key approach to the LibreVerse is to build and use technology to advance specific goals and avoid its limitations. Hence, a multi-goals effort like LibreTexts requires a multi-technology platform – the LibreVerse.
Using Machine Translation Algorithms to Effectively generate Non-English language OER Textbooks
Speaker: Delmar Larsen, Professor of Chemistry at the University of California, Davis, and Founder and Director of the LibreTexts project.
Summary: Larsen's

presentation will outline recent efforts of leveraging the centralized corpus of OER textbooks hosted on the LibreTexts platform toward a greater global impact. LibreTexts will discuss the implementation and impact of two approaches in building non-English language OER textbooks via modern machine translation algorithms. Key to these approaches is recognizing that while modern machine translation algorithms have developed significantly over the past few years, and they are still 90-95% perfect, their implementation makes them far more useful to students than the alternative human implemented translation effort at 100% implemented at a limited scale and with significant costs.
Integration of Values and Ethics in OER for Climate Change and the SDG's
Speaker: Dr Suma Parahakaran, head of the Faculty of Education at Manipal Globalnxt University in Malaysia, and serves as a Visiting Professor at the American University of Sovereign Nations. She was also part of the task force for training teachers to integrate Values and Ethics into the Curriculum content for the UNHABITAT water education project. 
Summary: This presentation will highlight options for collaborative OER for learning communities. 
OER as a Social Justice tool, the case of digital accessibility
Speaker: Nicolas Simon, Associate Professor of Sociology in the Department of Sociology, Anthropology, Criminology, and Social Work at Eastern Connecticut State University. 
Summary: By being cost-free, Open Educational Resources (OER) are electronically available for all students. The economic inclusion of all learners is the first step toward social justice. Another step is to use OER, which are specifically digitally accessible to include all types of learners. By using OER, we, educators, can promote and teach about digital accessibility. Then we can invite our students to use digital accessibility in the creation of new OER. In this sense, OER are good opportunities to advocate for Inclusion, Diversity, Equity, Accessibility, and Social Justice.
Get the Balance Right: Using Mindfulness OER for Intentional Work and Life Practices
Speaker: Dr. Carolyn Stevenson is currently a full-time faculty member and faculty advisor for Purdue University Global, School of General Education, Department of Professional Studies, with over 23 years teaching and administrative experience in higher education at both the undergraduate and graduate level. She completed her Ed.D. from Roosevelt University, M.B.A. from Kaplan University, M.A. in Communications from Governor's State University and B.A. in English from Northern Illinois University.
Summary: This session will discuss using mindfulness OER to foster a health work/life balance. The session will provide participants with resources and will include a brief meditation exercise.
Join us via Zoom at 4:00 PM UTC on 2 February 2023, ready to learn. Determine the meeting time in your local time zone. 
The post CC Open Education Platform Lightning Talks: Join us on 2 February 2023 appeared first on Creative Commons.