An interview with Juliane Finger and Marcel Wrzesinski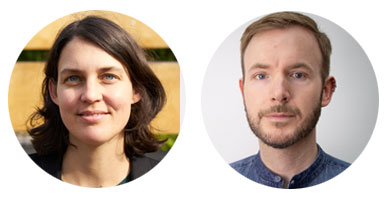 Public money, public asset.
The scholar-led.network (German) wants to change this and advocates fair, diverse and public spirit-oriented publishing. In doing so, it is committed to and involved in Open Access journals, book publishers and blogs which are run collaboratively by scientists in order to give the diverse community of publication initiatives a voice. The network aims to be an advocate for independent, non-profit-oriented Open Access and to ensure sustainability in a field which is often characterised by project-based funding. In the interview, network co-founders Juliane Finger and Marcel Wrzesinski introduce the initiative and discuss its challenges, goals and initial plans.
The scholar-led.network has recently been established. Who is behind it and what exactly is it? What are your goals?
The scholar-led.network is an alliance of Open Access stakeholders that was constituted at the beginning of 2021 as a "digital focus group" in the context of the project "open-access.network". The work of the scholar-led.network draws upon the project findings of several projects on non-chargeable Open Access, focussing particularly on scholar-led initiatives such as the establishment of a community platform in the project "Open Gender Platform " (German) or innovative publication solutions in the project "InnOAccess" (see the White Paper on technology and on business models).
The idea behind the scholar-led.network is initially the network concept: Publishers of scholar-led publication projects, representatives of infrastructure institutions, stakeholders of research institutions and universities should – all those come together to join forces for strong scholar-led publishing.
For us, scholar-led means: publishing on behalf of science and independent of profit-oriented large publishing houses and/or escalating commercial interests.
The scholar-led.network will then also serve to give the diverse publication initiatives a common voice. We identify fields of action and want to develop strategies to improve the situation of scholar-led publication initiatives.
Why is it necessary to take action in this field? What are the problems/challenges?
Despite the upheavals currently taking place in the publication system, we see the danger that "old" problems will continue. The Open Access movement originally developed from the idea of solving the so-called journal crisis. This generally refers to the efforts of several major science publishing houses in the 1990s to continually increase the fees for accessing academic journals, owing to their respective monopoly position. However, these large commercial publishers have now also identified Open Access as a business model for themselves. To finance Open Access publications, authors or their institutions often have to pay high article processing charges (APC). This creates new inequalities. Because not everyone can afford the article processing charges – or only those who are affiliated with a solvent institution.
Scholar-led initiatives also have specific problems to contend with: just like all other journals, they need money for their on-going operations, technology and staff. As non-chargeable Open Access, however, their financial situation is extremely precarious and greatly depends on the voluntary or "gifted" work of editors. In addition, funding in Germany is thus far and above all project-related and time-limited. This means that it may be possible to apply for funding to transfer a journal to the non-chargeable Open Access system, for example at the German Research Foundation. Yet in the long-term, the journals have to develop their own financing structures – a strategic direction of the funding is lacking. A further problem is the lack of a sense of responsibility on the part of those responsible for the subject and research institutions: the many small and interdisciplinary scholar-led projects often unintentionally fall through the disciplinary or institutional cracks and are forgotten.
When establishing the network, you also published a manifesto (German). What are you demanding and from whom?
The manifesto is intended to raise awareness of the precarious situation of many scholar-led projects in a provocative way. It starts the ball rolling for a discussion on the topic. We demand that more is done to strengthen scholar-led initiatives. In the manifesto we have identified three recommendations for action:
Firstly, we demand more connectivity, collaboration and a strategic framework to improve the situation of scholar-led publication initiatives.
Secondly, we demand the establishment of sustainable funding structures. Current funding for non-commercial publication initiatives is primarily project-based and therefore short-term, making it more difficult for scholar-led initiatives to establish themselves sustainably.
And thirdly, biblio-diversity should be supported. As well as the acceptance for new and heterogeneous publication formats, this includes new standards for aspects of quality assurance and accessibility of publications.
Incidentally, we are not alone in these demands: The most recently published study on Diamond Open Access by OPERAS and SPARC Europe makes very similar recommendations for action. All these points are addressed to a wide public: the scientific community, science policy, funding organisations, university administrations and libraries.
Who can join in? What and who are you looking for?
The network is open to new members. Scholar-led initiatives are welcome to join the network and connect with each other. But we also invite other stakeholders – whose primary interest lies in supporting non-commercial publication initiatives – to participate. These could be libraries, but also non-profit-oriented publishing companies such as university presses. In this way, we aim to make new partnerships on the basis of common interests possible, e.g. a non-commercial hosting service and a scholar-led journal. Anyone who is interested can find further information on the website of the scholar-led.network.
Which specific activities are you planning?
At the moment, the network meets for regular interexchange. The next meetings will discuss current researchs, sustainable strategies and practical solution approaches. Every meeting involves input from current projects on the scholar-led topic – so as to encourage discussion from a practical perspective.
Further activities are possible in the medium term, such as collaboratively generated information collections (e.g. an own Wiki) or forming affiliations for strategically coordinated negotiations. We are still in the discovery phase here and open for suggestions or ideas from everyone interested.
We were talking to Juliane Finger and Marcel Wrzesinski. This text has been translated from German.
This might also interest you: